A podcast focused on big ideas in engineering and the people behind them.
Welcome to Epod, where we interview some of the brightest minds in engineering and talk about exciting ideas at the forefront of the field. Each episode features subject matter experts affiliated with UW-Madison Interdisciplinary Professional Programs—an office of the University of Wisconsin-Madison College of Engineering.
Your Hosts
Justin Kyle Bush is the graduate academic advisor for Manufacturing Systems Engineering (MSE), Engineering Data Analytics (MEDA), and Sustainable Systems Engineering (SSE). In his role he supports all aspects of the student life cycle which may include: recruitment, admissions, new student orientation, academic advising, monitoring of progress towards the degree, course and enrollment management, diversity, equity and inclusion initiatives, funding, course and/or program assessment, and academic program review. As a first-generation college student (Bachelor of Arts in History and Master of Education with a Higher Education Administration concentration), he loves helping students accomplish the big step of applying for a master's degree.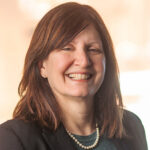 Susan Ottmann is a graduate program director for Engineering Professional Development, in the College of Engineering at the University of Wisconsin-Madison. She joined UW-Madison in October 2015. She teaches courses in technical leadership and technical project management for both credit and professional development programs. Susan has more than 25 years of industrial engineering experience in multiple engineering, marketing, manufacturing and leadership roles for a number of multinational companies. In the 10 years prior to joining UW-Madison, she led global business for Danaher and Thermo Fisher Scientific. In these roles she was responsible for teams in North America, Europe, and Asia.
Episodes
Episode 1: Barry Van Veen
October 4th, 2021
Listen Now

On this episode, Susan Ottmann talks to Dr. Barry Van Veen from UW-Madison's Electrical and Computer Engineering Department about machine learning and why it's important for engineers focused on data. Barry also discusses the engineering perspective on data science and data analytics versus a computer science view, as well as why signal processing is such a hot area of study today.
Episode 2: Tony Orzechowski
October 25th, 2021
Listen Now

On this episode, Susan Ottmann talks to Tony Orzechowski from Abbott Diagnostics R&D Data Analytics organization about how he got started in Data Analytics and why it's important for engineers today. 
Episode 3: Dan Negrut
November 15th, 2021
Listen Now
On this episode, Susan Ottmann talks to Dr. Dan Negrut from the UW-Madison Mechanical Engineering department about his course Computing Concepts for Applications in Engineering, the field of big data and how simulation and modeling fits into the field of data analytics. 
Episode 4: Craig Lee
Airing December 6th, 2021
On this episode, Susan Ottmann talks with Craig Lee, a Principal Group Engineering Manager with Microsoft in Redmond, Washington. Craig completed his Master's of Engineering in Engineering Management right here at UW-Madison, and he will be providing insights into his learnings from the course, his program, and his experience as a leader at Microsoft. 
Episode 5: Theresa Pelkey
Airing December 13th, 2021
On this episode, Justin Kyle Bush talks to Theresa Pelkey, the Manufacturing and Project Engineering Director at Kite Hill. Theresa received a Bachelor's in Chemical Engineering and a Master's in Manufacturing Systems Engineering from UW-Madison. She discusses her personal and professional development and the challenges of working, studying and being a parent. She also talks about her experience in the MSE program and gives advice for those who are thinking about continuing their education—whether through a degree or professional development.