Daryl Harrison
Position title: Graduate Academic Advisor
Email: haessig@wisc.edu
Address:
Madison, WI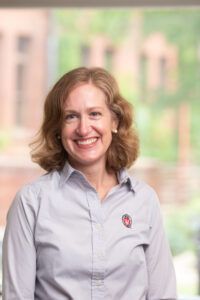 Daryl Harrison is a Graduate Academic Advisor and leads student services for the online Master of Engineering Management degree. She supports all aspects of the student life cycle, from recruitment to commencement and everything in between.
She has served graduate students in the University's College of Engineering for the last 9 years, including 7 years with the Interdisciplinary Professional Programs unit.
Daryl has numerous degrees in art history, but her professional path has always been in higher education. She holds bachelor and master's degrees in Art History, a graduate certificate in American Art, and a professional certificate in Technical Leadership.
Learning online can be challenging, and Daryl holds the utmost respect for students who balance the demands of graduate education, professional responsibilities, and personal commitments. She loves talking to students at every phase of their academic journey. Drop her a line!