Karene Cary
Credentials: MS
Position title: Graduate Academic Advisor
Email: durant@wisc.edu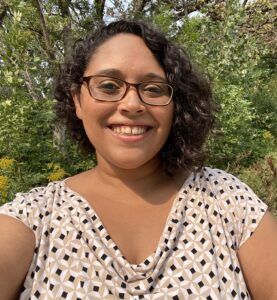 Karene Cary (she/her/hers) is the Graduate Academic Advisor for the following master's programs: Engine Systems (MEES), Polymer Engineering (MEPE), and Sustainable Systems Engineering (SSE), as well as the following capstone programs: Engine Design, Powertrain Electrification, and Polymer Processing & Manufacturing.
She grew up in Madison and graduated from Madison East High School, receiving her BS in English and Elementary Education from UW–Madison, and her MA in Education from Edgewood College. Working in higher ed since 2013, she has served as a graduate coordinator and advisor, in the Office of the Registrar, and coordinated educational benefits for veterans and their dependents.
Karene has a strong commitment to diversity, equity, inclusion, and antiracism work, and is committed to serving her community both personally and professionally. Most recently, she was voted in by the Middleton City Council to serve as a trustee for the Middleton Library. She has also served her country for the last 21 years as a combat medic in the US Army Reserves.
Karene enjoys working as a graduate academic advisor because she gets to help students throughout their educational journey reach their educational and professional goals.