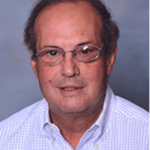 We are excited to spotlight the instructor for EPD 640, Introduction to Polymer Rheology, Dr. Bob Weiss. Dr. Weiss has had a long career as a polymer physicist and rheologist and as an educator.
After starting professional life as a chemical engineer working at ExxonMobil, Dr. Weiss decided to move back to academia. He has been a distinguished professor of chemical engineering at the University of Connecticut (UConn), where he is currently professor emeritus as well as professor and department head of Polymer Engineering at the University of Akron where he is also professor emeritus. Dr. Weiss is a fellow of the American Physical Society (APS), the Polymer Materials Science and Engineering (PMSE) Division of the American Chemical Society (ACS) and the Society for Plastics Engineering (SPE). He is also the 2008 recipient of the International Award from SPE.
In his research life he has focused primarily on ionomers (non-polar polymers containing a small percentage of charged groups), but also hydrogels, block copolymers, liquid crystals, and polymer blends. He holds several patents and has worked on applications ranging from fuel cells to tissue engineering.
We are so happy to have such a distinguished instructor teaching for MEPE!