A "first-of-its-kind-solution"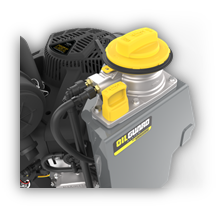 MADISON, Wis. – Oil changes are a regular routine for many Americans. We wait at the service center, sipping lukewarm coffee and chatting with the grease-clad workers to pass the time. And in another three months we'll be back in the mostly comfortable waiting room chair, taking in the hefty smells of oil and display tires. But what if our cars required oil changes much more frequently? Say, five times in one summer?
This is the costly and inconvenient reality for many who work in landscaping. Commercial lawn mowers require oil changes every 100 hours, which adds up to about five oil changes per season.
Engine Systems graduate Adam Hellman and his commercial engines team at Briggs & Stratton saw a problem with the standard 100 hour oil change and began looking for creative solutions.
"We set out to redevelop the engine lubrication system so it could go an entire season instead of 100 hours," Hellman said. "They [landscapers] save all of the costs. So instead of five oil changes, five trips to the dealership, they only have to do it once, either at the beginning of the season or the end of the season. It's a lot more convenient and it's a lot less costly for them."
The team needed to create a product that would be both compatible with current lawnmower models, and would drastically increase oil life. Eventually, they developed the 810cc EFI commercial engine equipped with an external oil reservoir to contain more oil, and keep it up to 30 degrees cooler.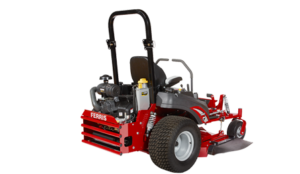 "Whenever the oil is pushed through the engine it lubricates the engine but it's also getting damaged," Hellman said. "The molecules are getting put through very high pressure… and so by having a lot more oil we can spread that damage out amongst a much greater amount by increasing the capacity but then also reducing the temperature of it [the oil]."
The new Vanguard OilGuard engine technology was said to be a "first-of-its-kind solution" in a recent For Construction Pros article. Hellman claims he was first exposed to some of the ideas he integrated into the new engine while earning his master's degree through Engineering Professional Development
"Going through the [Engine Systems] program I started to get exposed to all the different ways that engines are used," Hellman said. "It's pretty instrumental because I was exposed to all of these different approaches to the same type of problem. And what we actually ended up doing [while designing the OilGuard system] was we used the same type of lubrication system that was commonly seen in racing and also in the motorcycle industry. The first time I was exposed to that was actually in the program."
Not only did the program contribute to his success at Briggs & Stratton, Hellman also said the comprehensive structure of the program helps it to stand out from alternative graduate programs.
"A lot of people that took the program and that were my classmates were also experienced enough that they brought so much information and knowledge to the program and to myself that we learn just as much from our classmates as we do from the teachers," Hellman said. "I think that's a big advantage. It's something you don't normally see in graduate programs."
For more information on Engineering Professional Development's programs and certificates visit interpro.wisc.edu. For Adam Hellman, the Engine Systems program was an influential addition to the development of his career.
"It definitely took my engine knowledge up quite a great deal because of the faculty and the people I was exposed to," Hellman said. "So many experts in their field are a part of the [Engine Systems] program and have been over the course of the years… that it really did take me to that next step in my career."