On a balmy day in late July, students in UW-Madison's Master of Engineering Management (MEM) program were desperately trying to find the haunted hall. No, it wasn't an event for Halloween enthusiasts—rather, it was a scavenger hunt for students in the all-online program to get to know each other in the real world.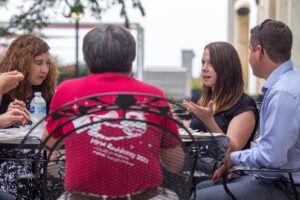 Once a year, students in the MEM program get together on the UW-Madison campus to meet their professors and peers outside the screen, welcome new students, and celebrate those who are about to graduate. This year's scavenger hunt was a way for them to connect and build community while exploring some of the UW's most iconic landmarks, including a trip to the famously haunted Science Hall—all while social distancing.   
 The social event is always a highlight of the program, but this year it was even more meaningful after a year-and-a-half of personal and collective disruption and loss as the COVID pandemic forced the world into lockdown. Immediately after the residency, Madison and Dane County reinstated mask requirements, making the time spent face-to-face even sweeter for students.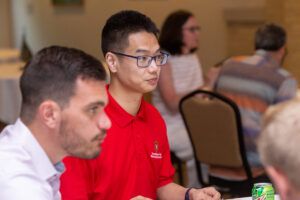 After they completed the scavenger hunt, the students joined faculty and staff for a celebratory dinner. The evening included a recognition of retiring MEM professor Harry Steudel, who was presented with a Distinguished Teaching Award for twenty-two years of service. Students also "passed the Bucky," a MEM tradition where graduating students pass a stuffed Bucky Badger to the incoming class, signed with a personal message. Tellingly, this year's graduating students drew their words of wisdom in the shape of a mask around Bucky's mouth.  
 The in-person residency is meaningful for MEM faculty and staff as well. "Although our program is online, we really value building in-person relationships and will do whatever it takes to foster those," says MEM Program Director Heather Smith. "One of the unique things about our program is that when COVID hit, we didn't have to pivot to online learning. We didn't have to lose quality or services, since our program was always specifically designed to be offered online."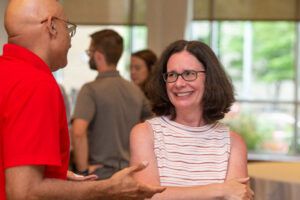 Smith and her planning team did change some aspects of the residency due to COVID, including switching the typically five-day in-person residency to a one-day social event and a one-day online event featuring keynote speakers, an alumni panel, information about classes, and tips for succeeding professionally after graduation.  
"We wanted to foster relationships without removing opportunities for those who weren't comfortable traveling and being in person," says Smith.   
Many students choose the all-online master's degree because they're hard-working engineering professionals with families and responsibilities, and the program gives them the flexibility they need. But that doesn't mean they're wallflowers. In fact, MEM staff joke that the students in their program are unusually outgoing for engineers. "As engineering managers, our students are very social and extroverted—this kind of event is their fuel," says Daryl Harrison, Graduate Academic Advisor. "The social event fulfills a deep need for community, and it really helps the online component. Having the personal connection really grows their academic success during the rest of the year."  
 As the pandemic wears on, so much still remains uncertain. But as the evening came to a close, the MEM students seemed ready to meet the future, whatever it might hold. Perhaps the slogan on the residency t-shirts they designed summed it up best: "To boldly go where no engineer has gone before."
Author: Rebecca Jamieson
Photos from the Scavenger Hunt