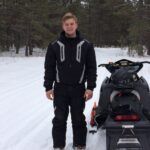 Dirk Holman is the newest MEES Alumni, having completed the MEES program in Summer 2022. (We are extremely proud!)
Dirk graduated in 2016 from MNSU, Mankato with a major in Automotive engineering technology and minor in manufacturing engineering technology. He then joined Polaris Inc. in June 2016 in Service Publications, where he created, edited, and published service manuals and field communications for the RZR product line from 2016-2022.
Dirk began has MEES degree in fall of 2019 when he realized that "I missed learning in school, and I wanted to continue my education in the future of powertrain systems. This degree would allow me to work in the forefront of vehicle technology at my current employer"
This year has been a big one for him – in addition to completing his MEES degree, in spring of this year he accepted a position as Electrical Engineering Lead for one of the product lines at Polaris Inc. Congratulations on your many great accomplishments Dirk!!!
If you are a MEES alumni willing to share an update on yourself, please email strzelec@wisc.edu.