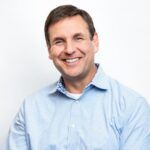 Dr. Nick Nagel is a UW-Madison graduate himself and has been teaching Electric Machines and Drives classes in the MEES and Powertrain Electrification programs since 2021.  He also teaches courses in Controls in the ME Department.
Dr. Nagel received his B.S. in Mechanical Engineering from the University of Illinois, Urbana-Champaign in 1989.  After working in industry for four years, he began his graduate work at UW-Madison in 1993, ultimately earning his M.S. in Mechanical Engineering, M.S. in Electrical Engineering, and Ph.D. in Mechanical Engineering in 1995, 1996, and 1998, respectively. His focus on control of electric machinery attracted him to aerospace industries searching for those skills. Dr. Nagel worked in the aerospace business for 20 years, first with MPC Products in Chicago, and then with Triumph Aerospace Systems – Seattle. While in Chicago, Dr. Nagel was an affiliate professor at the Illinois Institute of Technology.  In Seattle, he is currently an affiliate professor at the University of Washington – Seattle where he teaches graduate and professional courses in control systems and electric machines & drives.
In aerospace, Dr. Nagel focuses on high performance motor and motion control.  He works in electromechanical actuation for both commercial and military aerospace applications.  He draws from professional applications as background for his courses to compliment engineering theory with application experience.
In 2018, Dr. Nagel joined Turntide Technologies and moved from aerospace to industrial/automotive applications.  At Turntide, he began as Senior Director of Research & Development and now is the Global Engineer Lead of Controls & Firmware.  He currently focuses on transportation electrification and industrial energy savings.