UW-Madison has been in the distance education business for over 20 years.  With hundreds of graduates we have learned how best to serve practicing engineers.
First, it starts with preparation.  We educate our students on how to make the most of their online learning.  This preparation provides introduction into key systems and platforms used in our programs. Time management skills to balance demanding careers, family, and online learning are also covered extensively.  In addition, the preparation course teaches adult learners the art of group projects across geography and how best to leverage discussion boards to learn not only from the world renown faculty, but from the other students in their courses.
The Engaged Learning Model
There are 4 parts to UW-Madison's engaged learning model.  The first is the course design.  Courses are chunked into modules with short lectures to provide key content for each module.  The courses are designed specifically for the distance learner.  Second, is weekly live sessions.  Almost all of our courses provide a synchronous session with the lead instructor.  This allows for discussion and examples in real time with your cohort of fellow learners.  Third, is the discussion forum.  Here, students are discussing topics on a weekly basis, grappling with problems and real-life applications.  Lastly, and the most important are the projects.  Our courses are project-based, driving the theory into action.
A Typical Week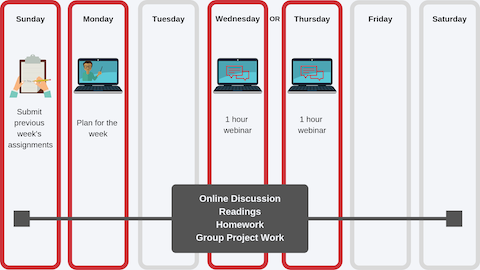 Check out our programs to see which one may best help you reach your career goals!
Our students come from companies based in almost every continent around the globe.  They are working for large multi-national organizations, government entities, the military, and smaller family owned businesses.  No matter the business, they are bringing real world examples for which theories taught in class can be applied.
Don't just listen to us.  Read what our students are up to:
Matt Hilgendorf – Engineering Management 2013 Society of Manufacturing Engineers (SME) 2018 Outstanding Young Manufacturing Engineer Award

"UW–Madison's curriculum is designed to provide courses with real-life applications and projects that allow you to directly apply the material to your current or future desired role," Olivia Dietzel – John Deere

"The MSE program will provide not only the technical foundation for working on a production floor but it also allows you to further develop your leadership and interpersonal skills while interacting with other working professionals." Sarah Brennan – Northrup Grummon

"Two weeks before I graduated I was promoted to director of an engine remanufacturing operation. I now lead a team in all aspects of development, manufacture and troubleshooting of all types of engine products. The skills and knowledge I gained in the MEES program helped me get this new position. The distance learning methods MEES uses is superior to traditional classroom learning because it is continuous mentoring, and this has given me a solid background for tackling the challenges in this leadership role." Mike Horak – Mercury Marine