Even before Michael Schlaak completed his Engineering Management master's degree in May 2023, he was already managing teams of engineers as the Director of Global Research and Development for Littelfuse, Inc.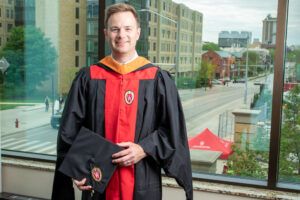 "I wanted to grow the skills I would need to be more successful for my teams," Michael said. "For me, it's about helping."
Littelfuse is a global manufacturer of leading technologies in circuit protection, power control, and sensing. Michael leads international teams that develop automotive fuses and sensors.
He cites the International Engineering Strategies and Operations class as a program highlight and especially impactful course. "The class helped me gain new perspectives on how to work with other countries and cultures, and prepared me for future work."
The Engineering Management curriculum is designed to enhance students' professional roles. Michael explains that the applied nature of classes meant that every class was helpful to his work. "In every course I did something that was tied to my day-to-day job. It was not just 'read and take a test' but apply the concepts directly. That's the best way to learn something new–by doing it."
Michael's advice for future Engineering Management students and their employers looking to enroll in or support a professional master's degree? "MEM encouraged me to work directly with parts of the business I had no prior experience with. It helped me learn more about how my own company works, learn more about how industry works, and broaden my interests for the future."
In recent months, Michael put his MEM skills to good use. His MEM capstone project successfully improved critical business processes in Littelfuse R&D. He also oversaw the opening of a new Littelfuse facility outside of Milan, Italy.
The future for Michael holds broader management responsibilities, and more helping. "MEM helped me find many new management tools. Now I have bigger and more diverse teams than ever, and this will help us to reach our full potential."