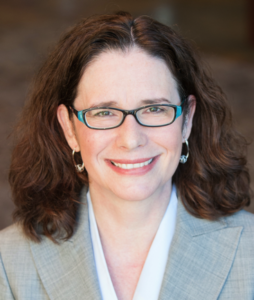 MADISON, Wis.—Heather Smith has joined UW-Madison Engineering Professional Development (EPD) as the new program director for EPD's online Master of Engineering Management (MEM) program. Heather also teaches leadership and project management courses.
Heather's Background and Education
Born in Michigan, but raised in a globetrotting army family, Heather became the first female in her family to finish high school and the first person in her family to graduate from college. But Heather didn't stop there, earning two Bachelor of Science degrees from the University of Michigan, Ann Arbor—one in Mechanical Engineering and the other in Electrical Engineering—and then a MS in engineering and technology management from Colorado School of Mines. Heather also holds certification as a Project Management Professional.
From the beginning, Heather's passion has been to facilitate the growth and development of students and colleagues throughout their engineering careers. Starting her professional career at the Center for Professional Development at the University of Michigan, she went on to grow her knowledge and skills within the test and measurement industry at National Instruments (NI). Beginning as an applications engineer, she found her focus teaching customer-facing software and hardware short courses. That experience led her to the customer education department, where she oversaw the development of NI's synchronous online training and online hardware lab, while developing content and teaching in NI's profitable short courses program. Soon, she was engaged in engineering project management, where she led global customer projects in consumer electronics, oil and gas, semiconductor and wireless communications. She then strengthened her experience in engineering management, developing the next generation of engineering project managers and leading change management. Throughout her time at NI, she gained a wide range of people and project management, partner relationship and industry experience.
What brings Heather to EPD?
From the start of her career, Heather has enjoyed teaching adult students, and has always directed her work experience to become a more effective instructor—particularly in the areas of engineering program management and people management. Heather is passionate about creating venues for others to help teach each other, whether through mentorship, forums or cross-cultural endeavors—both across engineering disciplines and through educating engineers in other countries. What makes Heather so well suited for this next step in her career journey is the fact that she's conversant in multiple engineering specialties, she brings with her a life experience working abroad in European and Asian countries, and she possesses key competencies in systems engineering, project management, people management, partner management, change management, leadership, product security, training, and certification.
What is Heather hoping to bring to EPD?
Heather is looking forward to leading the Master of Engineering: Engineering Management program (MEM)—teaching a variety of project management and leadership courses. Known as a motivational leader, with a focus on adaptability and risk management, she believes the key to building a successful team and organization lies in candor, mutual respect, encouraging continuous learning, and building a listening culture.
Heather will apply her skills and experience to invigorate EPD's MEM program. She is determined to energize and grow this trailblazing UW-Madison online degree program, providing a top-tier educational experience for engineers, who seek to grow in their careers as skilled managers and leaders.