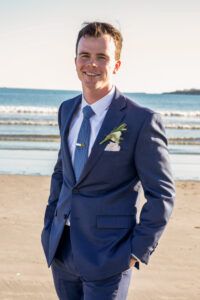 Hunter Finneran is a graduate of our Power Conversion and Control (PCC) capstone certificate and is now pursuing his Master of Science in Electrical Engineering: Power, which he'll graduate from in 2023. He currently lives in New London, CT, where he enjoys surfing, spearfishing, and sailing.
In this interview, Hunter talks about how the PCC certificate helped him land his dream job, how he balances school and work, and his advice to prospective students.
Rebecca Jamieson: I understand that you just landed your dream job. Congratulations! Tell me more about the job and what led you into engineering.
Hunter Finneran: The company I just joined is called Vineyard Wind. They are responsible for installing the first commercial-sized offshore wind farm near Martha's Vineyard. It's a project that's going to be going on over the next three years, and I am the electrical engineer for the wind turbine generator.
In high school, I knew that I really wanted to have a positive impact on the world and the environment. That led me to want to work in renewable and clean energy, and I decided that I wanted to become an electrical engineer.
I studied Electrical Engineering at the University of Connecticut, and after college, I ended up in the defense industry, where I learned a tremendous amount that prepared me for where I am today. But I was still trying to jump the gap over to renewables. I was applying to this company, Vineyard Wind, for about four years before I got a job there. I kept applying, even though I never heard anything back, but I kept trying.
I knew that if I wanted to work on wind turbines, I needed to focus on electric machines and drives. I researched where the best programs were and that led me to UW-Madison. From being in the industry, I had heard really great things about Madison, and I knew that's where everyone goes to research topics on electric motors and drives. So I knew going there would give me a competitive edge to get into the renewable energy industry.
I applied and got into the Power Conversion and Control certificate program. It has all these intro courses, but they're really fantastic because it's really good practical knowledge that you can immediately start using in the field. I was about halfway into the certificate program when I finally got an interview with Vineyard Wind. They loved that I was studying electric machines and drives because it directly applies to what they do. So I know that being in the PCC program gave me an edge. And now that I have the job, I'm applying everything I learned in the PCC certificate.
Rebecca Jamieson: That's wonderful to hear! What are some of your favorite things about the PCC certificate and the Power master's degree?
Hunter Finneran:  I've taken master's courses at UConn and at the University of Idaho and they're both great schools. But what I think sets Madison apart is the balance between understanding the theory and also the practical side, because the two don't always line up.
There are the things you do in academia and in books, and then there are the things you actually do in the field when you get out there. All the professors here at Madison have really great industry experience, so they're able to bridge that gap for you and show you how to connect the dots between the two.
I also like how easy it is to feel a part of the program, even though you're doing it all online. That has made it really fun to be a part of.
Rebecca Jamieson: What is your advice to other students who are considering this program?
Hunter Finneran: The program is certainly challenging, but that's what you want as an engineer, because if you're not learning anything, what's the point? It does require a fair amount of your time, but it comes down to scheduling and putting the time into studying. It's hard when you have a full-time job. Blocking out the hours every week and not letting your job cut into those hours is important.
Rebecca Jamieson: Is there anything else you'd like to share that we haven't covered?
Hunter Finneran: I would say that I would highly, highly recommend this program to anybody interested in studying electric machines and drives. It's fun, you learn a ton, and it's going to directly affect your career in some pretty great ways. I'm very grateful for making this decision and sticking with it.
The Master of Science Electrical Engineering: Power program will prepare you for leading edge positions in industry in the areas of electric power, power electronics, motor drives, and electric machines. This degree provides graduate students with applicable and theoretical knowledge in power electronics, including alternative energy, through research and study of technological and conceptual innovations in electrical and computer engineering. The education you receive at UW-Madison is directly applicable to a career in industry and is suitable for a new or recent graduate, as well as experienced professionals who seek the necessary training to change or advance their careers.