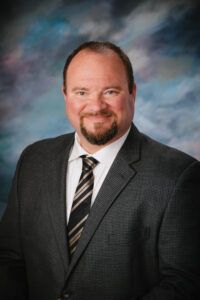 Walter Schlesser is a student in our Master of Engineering Data Analytics program and will graduate in 2024. Like many of our students, he's working while completing his degree, and his current role is a Process Pro Quality Engineer at John Deere in Dubuque, IA. In this interview, Walter shares a bit about himself and his experience in the MEDA program.
What made you decide to pursue a master's degree?
The combination of my employer's increased focus on technology and data and my desire to learn a new skillset. I also see the value and refreshing and adding to my education mid-career.
Why did you choose an online degree?
The convenience of being able to juggle my schedule while being efficient with my time.
What is your favorite thing about the program?
The flexibility and the number of electives this program allows. I am able to study a secondary subject in reasonable (3-5 classes) depth.
How have you applied what you've learned to your career?
I have directly applied tools from the program to gather input and rework an internal decision analysis tool/system.
What advice would you give to prospective students?
As early as possible, make a plan for each project/class/etc. While one may not follow the plan exactly, getting an early start on thinking about different milestones and obstacles will pay off in the long run.
What's a fun fact about you?
My taste palate has shifted significantly over the years. I grew up thinking that fried onions and black pepper were spicy, but now I enjoy crafting and eating homemade hot sauces made from habanero, ghost, and reaper peppers.
I also grew up on a dairy/hog farm in Wisconsin, attended UW-Madison (BS98/MS00), and was a student for three Badger Rose bowl appearances.
The Master of Engineering in Data Analytics (MEDA) program uniquely combines data science learning with focused applications in engineering and the skills to lead projects and teams. Many industries are in critical need of engineers who understand and can apply data science tools and methods to drive improvements in products and processes, research, design, testing, and operations. The MEDA program helps students become engineers who can confidently use data science to transform big data into informed, high-impact actions.