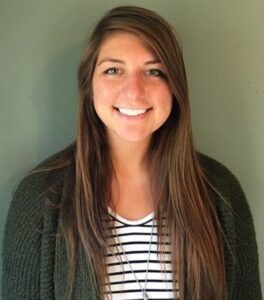 Payton Gunderson always knew she wanted to be an engineer. She excelled in mathematics and science and loved the hands-on engineering courses she took in high school. When it came time for her to decide what she wanted to do after graduating, it was an easy decision to pursue engineering. After double-majoring in engineering sciences and mathematics at Wartburg College, she decided to enroll in the Master of Engineering Management (MEM) program at UW-Madison. She chose the program because she wanted to develop crucial leadership and management skills.
"I've always been interested in leadership in engineering. The MEM program not only covered what I wanted to learn, but it was very flexible for me as a part-time student working a full-time job. The program provides a good balance between work and study."
The MEM degree is similar to an MBA but specifically tailored for engineers. It offers technical leadership skills and data-driven management practices for students already in leadership positions, as well as those hoping to transition into management roles. Taught by industry leaders, world-renowned faculty, and peers from top industry organizations, the all-online program has both synchronous and asynchronous components, allowing students to interact with instructors and peers in real time. Designed with working professionals in mind, the flexible structure allows students to work while completing their degree and put the skills they learn from the degree into practice.
Payton says the program gave her tools that she could immediately apply to her job as an industrial engineer at John Deere, where she's worked for the last four years. "There were a few projects at John Deere I worked on throughout the program where I could immediately apply what I learned at UW-Madison. One of my favorite classes was one where we learned how to negotiate, because I could apply it to both my personal and professional life. I was also able to get my feet wet in business classes while learning how to manage people at the same time."
Beyond learning new tools, Payton says that the rich professional backgrounds of her professors were also a highlight of the program. "One of the best things about the MEM program is that a lot of the professors have been engineers or project managers before, so they can bring that perspective to the classes." She added, "Most of my professors have had great experience in the industry."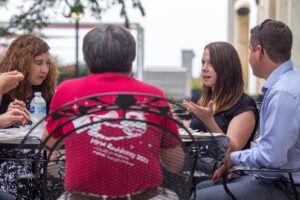 Although the program is flexible, it's also rigorous, and Payton advised prospective students to plan their time carefully.
"Probably the most challenging thing is having the motivation to actually complete the program. You must have strong time management to balance your forty-hour work week and all your projects and assignments." However, she stressed that the workload is manageable with proper planning. "I don't want to turn people away from doing this program, because it really is manageable, but you must be motivated and systematic during the learning process."
This year has been a full one for Payton. In addition to graduating from the MEM program, she got married in May and started a PhD program at the University of Tennessee, Knoxville over the summer in Industrial and Systems Engineering. Reflecting on her time at UW-Madison, she says, "The most valuable part of this program was how it helped me grow as a leader. I have been fortunate enough to lead many different projects in my young career, and this program helped me better manage teams in my current role and will aid me in my future roles as well."
Her advice for students hoping to apply to the MEM program? "I've recommended this program to many different colleagues because it's the perfect mix between an MBA and a Master of Engineering. The professors in the entire program care about the success of their students, and the content is incredibly enriching. The MEM program has helped me grow as a leader and has made me a more informed, well-rounded person. I have nothing but positive things to say about this program."
The Master of Engineering: Engineering Management (MEM) degree is a high-impact alternative to a traditional MBA for engineers. If you are an individual contributor, the engineering management degree will help you transition to a management role. If you already hold a leadership position, the degree will help hone your technical leadership skills. As an online, part-time program integrated into your work, MEM is specifically designed for the working professional.