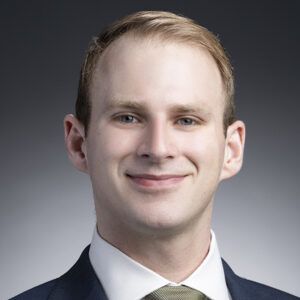 Matt DeHart is a December 2020 graduate of the Master of Engineering Management (MEM) program and currently works as a Senior Theater Undersea Warfare Capabilities Developer for Johns Hopkins University's Applied Physics Laboratory.
In this interview, he shares about his decision to pursue a master's degree, his experience transitioning from naval officer to graduate student, and his advice to prospective students—especially those coming from the military.
What made you decide to pursue a master's degree? Why did you choose an online degree?
I chose to pursue my master's degree as a step in my transition from being a U.S. Navy Submarine Officer to being a civilian. I desired to gain more information about leading and managing subordinates and peers outside of the military. I knew how to manage and lead in the military, but I needed a structured method to transition that knowledge. Additionally, I wanted to learn more about how a business determines its strategy and how it manages its budget.
How did you decide between a MEM and an MBA?
I chose a MEM degree over an MBA because I was more interested in technical leadership and management. Leading a team of technical professionals requires a much different skillset than that provided by an MBA, and I wanted to pursue the correct degree for my end goal.
How did you manage working and going to school?
I managed this by setting aside specific times throughout the week that were dedicated to school. I set school time from 4-8pm Monday to Thursday. If I had additional work, I used Saturday mornings. Setting an understanding with your family and employer about when you are dedicated to school is important. It lets everyone know what to expect and you can ensure they are dedicated to enabling you to improve yourself. Using my personal time to improve myself was well worth the investment.
What was the most important thing you took from this program?
The most important thing I took from the program was the importance of communicating effectively with the people you're managing and the people who are managing you. All of the courses emphasized how to communicate in the different situations a manager finds themselves in, from an elevator discussion to a formal analysis report.
How has this program helped you in your career? 
I graduated in December 2020, left the Navy, and started my new career on January 4, 2021. In the first week at my new job, I used some of the skills I learned in the MEM program and was asked to teach my coworkers these skills. This gave me early creditability and allowed me to contribute to the team's productivity early in my new position. Additionally, the skills I use the most in my current position are skills I learned in the MEM program.
How would you advise managers who are trying to convince their employees to get a MEM degree? What value do you see in your own employees getting a MEM degree?
If you want your employees to be more effective as team members and prepare them to be managers, you should be promoting the MEM program to them. The most important thing a manager can do to encourage an employee to pursue a MEM degree is to communicate their support. Discussing how the MEM degree will assist the employee in their professional development goals is also important.
The value I see in a MEM degree for my employees is that it provides deliberate development of skills that have an immediate impact on their daily performance. A MEM degree causes employees to think in a different way and approach situations with the new methods they are learning.
Did anything surprise you about this program?
I was surprised by the diversity of topics that were covered throughout the different courses. Many of the courses were what I expected to learn, but the electives allowed me to learn non-traditional management skills like innovation techniques and computer analysis skills.
What advice would you give to prospective students?
Join the program and dedicate the time each week to truly learn the material. The material you learn will have immediate application in your current role and you can begin to provide impact as you learn new methods. Make sure to set aside time each week that is dedicated to school and communicate this to your manager and your family. You'll be happy you made the investment in improving your professional skillset after your finish this degree.
Anything else you'd like to share?
For military members or veterans, the GI Bill can to be used for this program. Additionally, if you are a Wisconsin resident or entered service in Wisconsin, look into the Wisconsin GI Bill. If you are not 100% eligible for the GI Bill, the Wisconsin GI Bill will cover the remainder. As a veteran, this program could cost you $0 and provide you with a massive boost in your skills. The leadership and management you've learned in the military are valuable skills. Learning leadership and management skills that you can teach to other civilian professionals will allow you to further increase these skills and transfer your military experience to the civilian sector.

The Master of Engineering: Engineering Management (MEM) degree is a high-impact alternative to a traditional MBA for engineers. If you are an individual contributor, the engineering management degree will help you transition to a management role. If you already hold a leadership position, the degree will help hone your technical leadership skills. As an online, part-time program integrated into your work, MEM is specifically designed for the working professional.