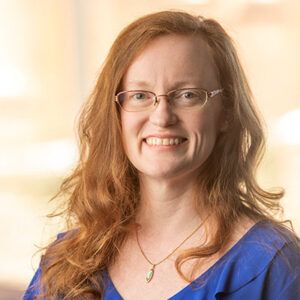 Joy Altwies, PhD, PE, LEED AP+, is a Program Director for the University of Wisconsin-Madison Office of Interdisciplinary Professional Programs (formerly called Engineering Professional Development, or EPD).
For over 17 years, Dr. Altwies has developed and taught continuing education courses emphasizing high performance building design and construction, mechanical system design and operation, energy efficiency, and commissioning. She is also Program Director of the Master of Sustainable Systems Engineering (SSE) degree program and an instructor of two graduate courses in the program. 
Dr. Altwies shared her thoughts about why students should consider an online master's degree, what she loves about the SSE program, her own career path, and the many career opportunities that exist for SSE graduates.
Why should students further their education by pursuing a master's degree? 
There are a few clear reasons in my view: the ones many people think about are the ability to gain greater responsibilities within a chosen company/career and higher income potential. But the reason that most influenced my own decision was the ability to specialize my career path. I had so many potential career options as an undergraduate mechanical engineer, but I really wanted to work in an area related to sustainability. Getting my master's degree allowed me to focus my graduate studies in an area that opened doors to the types of positions I really wanted. 
The SSE degree is unique in that it's suitable for both those who are mid-career and those just graduating from undergraduate programs. We have both types of students in the program. Some are interested in advancing within their existing careers, some are looking to change careers, and some are wanting to do what I did—go immediately from undergraduate to graduate school. The fact that SSE is online makes all that possible no matter where you are, and it can go with you if you move.
What courses do you teach in the SSE program, what aspects of the courses do you think are most beneficial to SSE students, and what do you enjoy most about them? 
I currently teach two courses focused on buildings—EPD 730 Sustainable Facilities, and EPD 731 Energy Efficiency in Buildings. These are two of the design/engineering electives, and they focus on the resource consumption side of sustainability, both in terms of energy and broader environmental impact. The EPD 730 course covers the environmental impact of buildings—both residential and commercial. In addition to energy, it also covers land use, water use, consumption of materials, and related aspects of green building design and construction. EPD 731 focuses more tightly on the energy demand side, investigating the ways buildings use energy and how that energy use can be improved. 
These are my favorite courses, since green building has been the focus of my career. Not only are there real and immediate opportunities to improve the environment in the building sector, but there are also terrific careers and a great need for people with this knowledge in the industry. For example, students in EPD 731 gain experience creating a building energy model, and employers are looking for people with this type of knowledge and experience. 
What is your career path and experience, and what led you to becoming a part of the SSE degree program? 
I chose engineering as an undergraduate major because I loved the idea of using technology to solve real problems. I think this is what drives all engineering majors! I specifically chose mechanical engineering because there were so many different career options, and I wasn't sure what career path I wanted to follow. Upon graduation, I knew I wanted to take additional courses to specialize in an area related to energy, so I applied to graduate school and earned my master's degree here at UW-Madison. This was long before the existence of the SSE program, so my degree was through the Solar Energy Lab here in the ME department. After that, I went to work as a consulting engineer, working on projects improving building energy performance and helping owners pursue LEED building certification. LEED certification was still a really new concept then, and it was exciting and very challenging trying to help owners find practical and meaningful ways to make their buildings greener.  
Fast forward a few years, and I decided to join UW-Madison as a program director, creating professional development short courses to help other engineers and technical professionals in the areas of building systems (like HVAC and controls), commissioning, and green buildings. When the SSE degree program was launched, I also began teaching a course on sustainable buildings as part of the degree. I've been here at UW more than 17 years, currently teach two SSE courses related to buildings, and became the SSE director in 2020. It's exciting to see that both mid-career and recent graduates are eager to join the program and make sustainability their career focus. 
From your knowledge and perspective, what types of career paths or options would be open to someone with a master's degree in Sustainable Systems Engineering? 
The careers I'm most familiar with are those in the building industry, so I'll highlight those. First, I should note that many of our SSE students are currently working and looking to advance within their current careers. But if you're considering a career change and looking at the SSE degree from that perspective, there are many potential paths.  
In the building industry, there are companies that help building owners evaluate green building opportunities, such as achieving LEED certification. There are also companies that specialize in energy efficiency consulting, helping owners identify and implement the most impactful upgrades or operational changes to reduce their energy usage. Companies in this field come in all sizes, and examples include Steven Winter Associates, TetraTech, Johnson Controls, Honeywell, and others. There are also design and construction firms that need individuals with knowledge of green design, energy modeling, and related sustainability skills.   
Many companies in all parts of the economy own and operate their facilities and may have a need to improve their corporate sustainability, including in the operation of their buildings. If someone is looking for a career in this area, the ASHRAE job board is a great place to take a look—just go to jobs.ashrae.org and search for "energy" or "green" to see who companies are looking for.   
The utilities industry also has career options for individuals with building efficiency knowledge, as many have programs that help their customers reduce energy use. In the government sector, there are research and policy-oriented careers at locations like the National Renewable Energy Lab (NREL), Lawrence Berkeley Lab (LBL), and associated research institutes like IMT.  
There are so many possibilities and such a great need for people with this knowledge and a passion for improving the environment. 
The Master of Engineering: Sustainable Systems Engineering (SSE) degree prepares you to understand the policy, science, engineering, and economics of tomorrow's clean energy systems and sources. The SSE program is designed for those looking to advance within their existing organization, as well as those looking to break into renewable energy or energy efficiency industries.