"We are holding each other accountable," said Aly, who recently sat down with three other colleagues to talk about their shared online experience through the University of Wisconsin – Madison.
It's a golden and sometimes rare opportunity for four students from the same company to pursue the same online degree. These coworkers from Polaris were admitted into the same program—one that excels in honing engineering leadership and management skills. This winter, the four were interviewed in an online panel and shared how they increased accountability, utilized their wider scope of experience to draw upon during their classes, and developed a larger network within their corporation.
The four were (or are) part of the University of Wisconsin's online Engineering Management Master's Degree program, also known as MEM. We'll hear from Polaris' 2020 UW graduates: Aly Dodd, Program Leader; Bryce Holm, Senior Engineer; and Amanda Graus, Senior Project Leader. We've also included current student Craig Hawes, Senior Systems Engineer (planned 2022 graduation). Let's learn more from their discussion.
How did attending together help you as you went through the program?
Aly:
"It helps us stay on top of things when we get busy. Having the accountability within the group was really helpful."
Bryce:
"With everything going on and a having a couple of kids, life can get pretty busy. Having a group of friends looking out for each other, put us at a rare advantage over most students."
Amanda:
"You have your coworkers to count on and help you along; I found this to be super helpful for my learning. The change from the office to being in a classroom setting together is great, you are able to make mistakes and ask questions to each other that you might not want to ask your manager. After practicing skills in class I feel that I have a better foundation to speak intelligently on the topics at work."
Craig:
"The program got me to interact with different parts of the company, like the patent people, that I thought were way above me. But now I can hold my own and not be lost when I go talk to them."
Bryce:
"Working together helped with both our course work studies while also building our individual networks within our company. To be successful in our studies, it required we interacted with individuals in various entities of the company. We were able to use each other's existing contacts, thus resulting in an increase in our individual networks. It wasn't just our networks we had established during our career; it was four different people's networks, and we were able to capitalize on that."
For your future employees, when do you think they should pursue their MEM?
Amanda: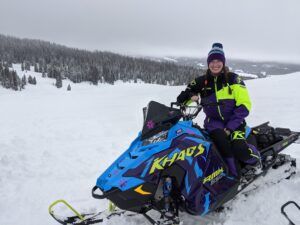 "If your goal is to become a manager, you're already in the mindset of wanting to learn the skills taught in MEM. Use the program as the first step to focus yourself on achieving this goal. Or if you are already a manager, use the program to practice, improve, and grow. The diversity of the program makes it fitting for both managers and those pursuing management."
Craig:
"I spoke with my HR person before starting the program and she said they don't promote you just because you get a degree. You get the knowledge and the experience from the degree, and then once you're more effective, you get promoted. Based on that, I think it's a good way to step in and show that you're dedicated and interested in taking on more responsibility within a company."
How will the MEM program help you in your career?
Bryce:
"We all went to school for engineering, which is about solving problems. Managing engineers is a whole different ballpark – in school, you don't really learn how to do that. That's ones of the aspects to me that will be the hardest part of transitioning to a manager. It won't be about solving technical problems but rather employees' problems. It will be about how do you relate and interact with them? How do you talk to them? How do you encourage that person to succeed? And I think that's one of the things about management: it's not how you succeed; it's how you help someone else be successful. This program really helps to set the groundwork and establish the foundation necessary for that."
These Polaris leaders are well prepared for the next steps in their career, and we are proud that they chose the University of Wisconsin – Madison as a stepping block in their journey!
The Master of Engineering: Engineering Management (MEM) degree is a high-impact alternative to a traditional MBA for engineers. If you are an individual contributor, the engineering management degree will help you transition to a management role. If you already hold a leadership position, the degree will help hone your technical leadership skills. As an online, part-time program integrated into your work, MEM is specifically designed for the working professional.