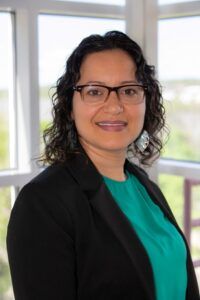 Najoua Jouini, PhD, is faculty in the Master of Sustainable Systems Engineering (SSE) program with the University of Wisconsin-Madison's Office of Interdisciplinary Professional Programs.
She specializes in sustainability, social and environmental life cycle assessment, energy efficiency program evaluation, and stakeholder engagement. She has over ten years of research and work experience in sustainability assessment and energy analysis. Dr. Jouini also has over eight years of experience in teaching sustainability assessment tools and sustainable improvement strategies to engineering professionals. She has successfully managed a broad range of research studies and projects in the energy, environmental, healthcare, and water sectors.  
Dr. Jouini shared her thoughts about why students should consider an online master's degree, what she loves about the SSE program, her own career path, and the many career opportunities that exist for SSE graduates. 
Why should students further their education by pursuing a master's degree? 
The job market is highly competitive these days. A master's degree can offer job security and potentially an increase in income. Another equally important reason for pursuing a master's degree is the ability to open pathways into new career opportunities. This is especially critical in the field of sustainability, which is rapidly evolving. These career opportunities can emerge through: 
Domain knowledge:

 students can gain specialized knowledge or immerse themselves in a specific industry such as renewables or green buildings.

 

Practical experience:

 students can apply theory to practice through advanced courses, projects, and capstones.

 

Interpersonal growth:

 students can enhance crucial skills such as critical thinking, analytic ability, and time management that can help them grow into senior and leadership roles.

 
The SSE program can be tailored to support the career plans of each student. Some students might want to grow within their current industry and others might be looking for a career change. Some students might want to specialize in green buildings and others might focus on renewable energy systems.  
Because this is an online program, students have control over their learning pace. Some students might want to complete the program in a short timeframe; others might prefer to work while pursuing their master's degree.  
Another interesting aspect of the program is that it gives students a chance to engage with a diverse group of people with different educational and professional backgrounds. My current students come from all over the U.S. (Connecticut, Florida, Georgia, Texas, Wisconsin, Minnesota, Utah, and California), and their backgrounds span from environmental science to business and engineering (including civil, environmental, geological, mechanical, nuclear, and chemical). 
What courses do you teach in the SSE program, what aspects of the courses do you think are most beneficial to SSE students, and what do you enjoy most about them? 
I currently teach two sustainability courses: EPD 660—Core Competencies of Sustainability and OTM 770—Sustainable Approaches to System Improvement. EPD 660 introduces students to different sustainability concepts (environmental, social, economic, and governance). Examples include life-cycle thinking, carbon and ecological footprinting, circular economy, geodesign, risk management, environmental justice, and green building and infrastructure. EPD 660 is especially useful to students that are still exploring the different areas of specialization within sustainability. One unique aspect of the course is a sustainability competencies matrix that each student develops to serve as a personalized roadmap and a guide for their educational and career path.  
OTM770 is an advanced sustainability course that focuses on organizational sustainability (or systems and processes in general). The course introduces students to cutting-edge sustainability practices, metrics, and strategies with many case studies and examples. OTM 770 also gives students a chance to put their knowledge into practice through a project where they develop sustainability improvement strategies for a company of their choice. 
Both courses complement each other, and I usually recommend that my students take EPD 660 before OTM 770. 
What is your career path and experience, and what led you to becoming a part of the SSE degree program? 
I chose mechanical engineering because I love math and hands-on problem-solving. I was not sure what I wanted to specialize in when I started my undergraduate program, but I knew that I wanted to focus on meaningful problems and work towards solutions that have a positive impact on people's lives and the environment. That's how I ended up majoring in renewable energy systems and worked on several research projects, including industrial heat pumps and solar-supported air conditioning systems (at that time, there were no master's programs in sustainability or sustainable systems).  
Before going back to grad school to pursue a doctoral degree, I worked for a few years to gain more practical experience. My work as a design engineer helped me expand my research and work interests. I ended up opting for a doctoral program that was interdisciplinary in nature. My research focused on organizational sustainability and how assessment tools can measure social impacts in addition to environmental impacts for a comprehensive decision-making approach.  
While pursuing my doctoral degree, I really enjoyed teaching many sustainability courses. That's why, after graduating, I decided to continue teaching while working as a consultant. I currently teach two sustainability courses as part of the SSE program. It is always refreshing to meet students from different backgrounds that are passionate about the environment and want to pursue a purposeful career. 
From your knowledge and perspective, what types of career paths or options would be open to someone with a master's degree in Sustainable Systems Engineering? 
There are many career paths that SSE students could pursue depending on their field of specialization. For example, they can decide to specialize in energy efficiency, renewable energy, green buildings, green infrastructure, or corporate sustainability. SSE students who are looking to grow in their current organization or industry can employ their new skills to take on more sustainability-focused responsibilities. For example, an operations engineer can seek a position as an environmental engineer, an energy manager, or a sustainability manager. In their new position, they can make the products or services the company provides more sustainable and/or support the company-wide sustainability efforts (including strategic development, goals and performance tracking, as well as disclosure and reporting).   
SSE students who are considering a career change have more career options. They have to think of the type of organization they want to work for (e.g., corporation, utility, sustainability consulting firm, government, research lab, or NGO) and the role they want to play in the organization (e.g., operations manager, product designer, data analyst, policy analyst, researcher, or consultant). Sustainability can complement a traditional job (like an operations engineer) or can be the main focus of the job (like a sustainability manager or sustainability consultant).  
The nice thing about the SSE program is that students can tailor their coursework to support the career path of their choice. 
The Master of Engineering: Sustainable Systems Engineering (SSE) degree prepares you to understand the policy, science, engineering, and economics of tomorrow's clean energy systems and sources. The SSE program is designed for those looking to advance within their existing organization, as well as those looking to break into renewable energy or energy efficiency industries. Learn more.