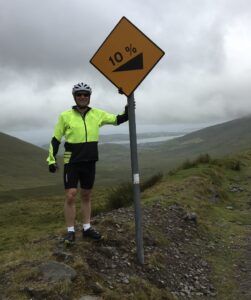 Getting an online Master of Science in Electrical Engineering: Power degree was a bit nerve-wracking for Jeffrey Vasel after many years out of school.
"When I graduated from college, online classes didn't exist," he says. And the online format wasn't the only thing that had changed since he graduated with a BS in Electrical Engineering at Youngstown State University. "All the technology has progressed so much— now they have MATLAB and Simulink, which allowed me to do all kinds of experimenting that I wasn't able to do in undergrad."
But Jeffrey didn't let any of those obstacles stop him from pursuing his dream. "It had always been a goal of mine," he says. "I thought I would go right after college, but other priorities came up." After taking several professional development classes, he gained the confidence to apply to the online master's program at UW-Madison. Since his job in Electrical Integration Business Development at ABB required regular travel, the flexibility of the online degree was perfect for him. He was also drawn to UW-Madison's consistently high rankings and the fact that the program conferred the same degree as the one that on-campus students received. In addition, the program's flexibility allowed him to continue his busy work schedule while pursuing his degree.
Once in school, there were challenges as well as pleasant surprises. "It was tough," Jeffrey says. "I worked for it. But things do come back to you—I was writing an equation that I didn't think I remembered, but it just started coming out of my hand."
Jeffrey says that all his professors were incredibly supportive. He added that, "They created this program, and they want you to succeed." In fact, the connection he built with his peers and professors was one of the things that surprised him about the program. "My professors in the Power program were very encouraging. Whatever you ask, they always say, "That's a good question!"
Because of the pandemic, the lab component of the program—typically held on campus in Madison—was moved online. Jeffrey expressed gratitude for the time and commitment his professor Steve Fredette put into creating the online lab and helping students succeed. Although using simulators instead of physical tools was different than being in an actual lab setting, Jeffrey still learned a lot from the lab. He especially enjoyed that the class was rigorous and designed so that students had to put everything they'd already learned into practice.
"Overall, it was a positive experience," Jeffrey says. "I got to really collaborate with the other students. We'd have meetings every day and often stay up late, but Steve would be right there with us." The project he completed during the lab was a Flyback Power Converter for an adjustable speed drive, which is used to efficiently operate and control motors. Drives are now used in our homes, including in refrigerators, furnaces, and air conditioners, and help save a huge amount of energy.
Jeffrey says that the technology they studied in the program was not only fascinating, but applicable to so many hot topics in tech today, like wearable medical electronics, smart grids, and electric vehicles. "The technology we studied in this program improves lives," he says. "This is the best time to earn a master's in power systems and power electronics—that's where everything is happening right now, and a master's degree opens doors to new career routes."
Although he wasn't able to visit campus until his graduation in December of 2021, it was worth the wait. "The commencement ceremony was wonderful, and it was great to be on campus and meet some of my professors and TAs for the first time—they're real now! It was a super weekend."
Now that Jeffrey has completed his degree, he finally has a bit more time to devote to his other passions—brewing beer (there's a pilsner currently fermenting in his laundry room), running, cycling, and more time with his family.
Jeffrey's advice to others who might be considering the Electrical and Power Engineering program? "Think of it like a fun new hobby. Taking the attitude of, "Oh yay a new homework assignment," rather than dreading it helped me a lot." He also encouraged others to learn from the challenges he went through: "Prepare yourself by reviewing the fundamentals," he says. "Don't be afraid to talk to the instructors during their office hours. And interacting with fellow students is a way to network for your courses and your work life as well."
Jeffrey also advised students to take advantage of the connections they build with their fellow classmates: "The online cohorts are working professionals and extremely focused. They can ask deep questions right off the bat and apply what they're learning to their work. It's a great way to network."
His last words of wisdom? "The more work you put into the program, the more benefit you'll get out of it."
UW–Madison's Master of Science in Electrical Engineering: Power Engineering program will give you applicable and theoretical knowledge in power electronics, including alternative energy, through research and study of technological and conceptual innovations in electrical and computer engineering. The education you receive at UW-Madison is directly applicable to a career in industry and is suitable for new or recent graduates, as well as experienced professionals who seek the necessary (re)training to change or advance their careers.
Author: Rebecca Jamieson