Wisconsin Badger, engineer extraordinaire, international globetrotter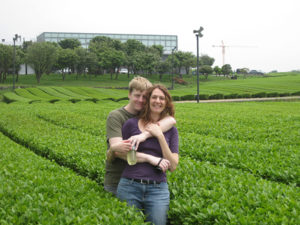 Thomas Simmons, recent graduate of UW-Madison's Master of Engineering: Engineering Management program, started traveling before he learned how to walk.
Simmons moved around the U.S. a lot growing up in a military family, with both a father and a stepfather in the U.S. Navy. His first move occurred at age one, but it wasn't until age 21 that Simmons left the country when he was deployed to the Middle East while in the U.S. Army. Following his undergraduate education at the Milwaukee School of Engineering, his career has taken him through the rest of the Eastern Hemisphere including Asia and Europe.
Simmons is now settled down in Stoughton, Wis., with his wife and twins, who were born during his time in the Engineering Management program.
"We actually found out that my wife was pregnant two weeks after I accepted my position in the program," Simmons said. "The first semester started Labor Day and November they were born, so the entire program basically I had work, the program requirements and the twins. It was definitely a challenge."
He completed the program in two years, but his schedule was packed.
"If it was a work day, I'd be up at 5 a.m., help with the kids, go to work. During lunch, I would work on homework or [listen to] recordings from other students from the day classes. Finish my work day, go home, make dinner, eat dinner, put the kids to bed as soon as they got home from daycare, and then immediately do homework," Simmons said.
A major reason why Simmons decided to get his master's degree in management was to prove that he has the skill sets of a leader. Though he was a leader in the military, he was never a titled officer. He noticed that employers underestimated his skills because of the lack of title, so he got his master's degree to "have something that they'll believe," he said.
After completing his master's degree, Simmons saw a direct change in his job: he was promoted to a higher role as a facility manager at his employer, Prent Corp., because of his new skills acquired through the program. "I feel like the degree definitely had an impact on [my job]. It definitely helped me refine some of my skill sets I am using every day," he said.
International globetrotter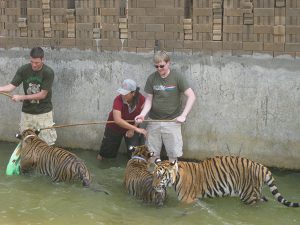 In addition to being an accomplished student, Simmons is an accomplished traveler. He loves traveling, likely due to the fact the military took him around the world. His travels have also benefited his career because he's met many different people and learned new perspectives on life and work.
"My first job as a civilian I traveled around to Asia and Europe, basically responsible for contract negotiations and quality inspections and things like that for our international supplier base," Simmons said about his job with United Conveyor Corporation (UCC).
The owner of UCC later chose Simmons when it was time to send a team to India to improve production capabilities, supplier quality and relationships with customers and suppliers there because he already had experience working outside of the U.S.
"I said, 'Sure, I'll go to India.' Having never been there before, I always thought it would be a cool place to see," Simmons said.
Following that decision, Simmons lived and worked from Kolkata, India, for one year. There, he spent a lot of time traveling throughout India to build a supplier base for UCC, but any time he had a long weekend, he left the country to travel as much as he could.
"I had a friend who lived in Singapore, so I went to Singapore for a long weekend. Roughly hallway through the year, my teammates and I spent time in Thailand. Towards the end of my year I went to Korea for two weeks and flew my wife over," Simmons said.
He also went to China frequently for business with UCC. When he changed jobs to Prent Corporation, he volunteered to work abroad again, including at plants in China where he oversaw the completion of a production facility and the installation of production lines.
Learning from the world
Why all the travel? The better question is why not?
"All the travel is because I wanted to learn," Simmons explained. "I've always been interested in other places. I did a ton of reading when I was a kid, about these places and how different people are and how things work. I wanted to see it for myself."
Now, Simmons travels at every chance he gets. "Someone [might be] like, 'We need someone to explore Eastern Europe to find a supplier.' Yeah, I'll go. I'm not going to be able to afford to do this often on my own money. Why not do it for you?" he asks himself.
As of today, Simmons has been to 13 different countries. Despite the many places he has visited, some cultural differences still take him by surprise, no matter the amount of preparation.
For example, in a country like China where many stereotypes are assumed by Western citizens, life is much different than the expectation. "I would not have known that from just readings. There's a number of things that you just have to experience," Simmons said.
Even with drastic cultural differences, Simmons has discovered something that makes everyone in the world more relatable to each other: "What I've found is the core of what people are is the same everywhere. They want to be ok, they want their family to be ok, they want to be happy," he said.
This wisdom has been one of the most important things Simmons has learned from experiencing different cultures.
"As I've gained more and more exposure to that, and I continue to deal with people in other countries, that's been my key to my ability to attempt to relate [to people]," Simmons said. "It has gone a huge, huge way in helping me get stuff done."
Simmons is grateful for this knowledge, and he wishes he would have begun traveling even earlier in his life. "Some of the lessons I was learning, the sooner you have it the sooner you can apply it and the sooner everything else is easier because of it."
Engineer extraordinaire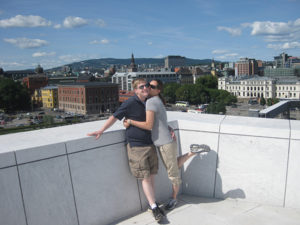 While abroad for his career, Simmons has gained insight in engineering in different countries. He saw that international engineers work differently like each of their cultures, but deep down are all quite similar.
"The core of it, the abilities, they're all the same. There's certain physical laws that everyone respects," Simons said. "It's just a matter of how they apply it that seems to vary."
He compared his observations to Western engineers. "Europeans and Americans tend to say, 'Here's what I want, this is what you're going to give me,'" Simmons said. "We tend to focus on what we ask for versus the question that we're asking."
In China, Simmons said engineers start with asking what you are after and work backwards. They focus on the end goal of the product being asked for, and work to create a product that will functionally achieve that goal, even if it was not exactly what was asked for.
India is the opposite of China, where engineers will make exactly what is ask for, with few questions asked, no matter how hard it is to complete. In Simmons' experience, the training that "the customer is always right" is taken to the extreme, even in cases where the design or product being asked for is not the best solution to the problem that is being resolved.
In Europe, engineers focus on the details of a given design. They ask a lot of questions at the beginning of a project to help provide suggestions on how the design can be improved to work better, as well as to save time in the future because they will already know the answers to questions that might come up later.
"In terms of degreed engineers, the training people receive is actually fairly universal," Simmons said. "Where the difference is how they go about making the thing."
What's next?
Simmons' new position at Prent puts international travel on pause for a while. And since his two young children are not old enough to travel, his family probably won't do much outside of Wisconsin until they get older. However, the Simmons' next international trip will likely be to Norway. In fact, their goal is to live there some day.
"My favorite place of everywhere I've been? Easily Norway," Simmons declared. "Legitimately, I've been trying to find work there, I love it so much." So much so that he and his wife are learning the Norwegian language to prepare!
Until then, Simmons offered his advice to travelers – advice that can apply to engineers, too.
"Do not say no to travel. Take these types of opportunities early," he encouraged. "If you have a chance, it doesn't matter where it is – just go!"